BRYAN KELLY
UX WRITER & CONTENT DESIGNER
Hey there! I help create frictionless user experiences. All thanks to some communication design know-how, a little digital marketing expertise, and a keen business sense.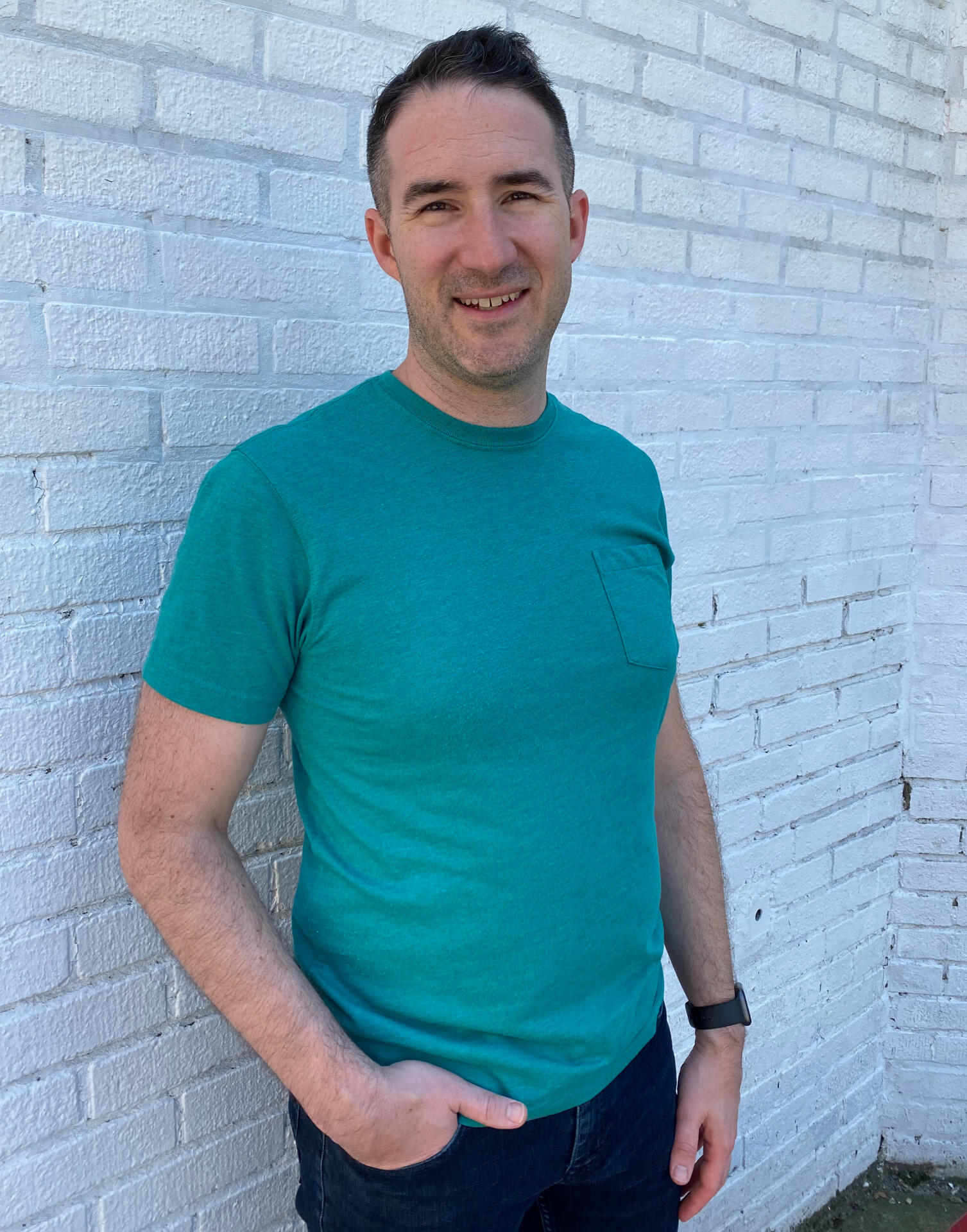 PORTFOLIO
PUBLISHED WORK
CONTACT
Get in touch! Have portfolio questions?
Want to see my resume? Send a message.
---
© Bryan Kelly. All rights reserved.
PREMERA BLUE CROSS
Premera Blue Cross is a health insurance company in Seattle, Washington and offers a suite of products to over 2 million members. Their UX, product, and content teams wrestled with a 2-year delay on a member website redesign intended to reduce member friction and convert prospects.
PROJECT 1: MEMBER DASHBOARD
Problem
Members had a difficult time understanding plan and claim details on their dashboard. Terms such as Deductible, Out-of-Pocket Max, and HSA were confusing. As a result, the call center received many simple but very important questions. This had a high cost.Process
Working with the Lead UX Design Strategist, we spoke to Customer Service about the most common member questions. Then we identified existing dashboard friction points.Solution
Clear headings and labels identified the most important items for members. "See Details" and "Learn More" also linked to help articles to reassure members and reduce doubt. CTAs guided members to helpful resources. The final redesign led to eliminating more than $1M in Customer Service related expenses.Contribution
UX/UI copywriting
---
PROJECT 2: MENU NAVIGATION
Problem
Prospects couldn't find the insurance-related details they were seeking. The previous menu was confusing. Labels didn't match page content and provided little information. This had a negative impact on lead generation and revenue goalsProcess
The job was to redesign the menu navigation for non-members (unauthenticated users). I first reviewed the site's user data and a recent content audit. Then I conducted a card sorting exercise to define the clearest hierarchy and labeling.Solution
My new Information Architecture fixed the problem by first focusing on three clear non-member actions: (1) Choose Plan, (2) Find Care, and (3) Explore Resources. Removing friction points allowed prospects to quickly access information they needed most.Contribution
Information Architecture, UI copywriting
---
© Bryan Kelly. All rights reserved.
EXPRESS
Express is a a 40-year-old fashion retailer best known as a mall brand. Because mall dynamics had been shifting, they began rebranding as a fashion authority for millennials. After making large eCommerce strategy investments, they explored how content might help achieve this goal.
PROJECT: CONTENT PROCESS MAP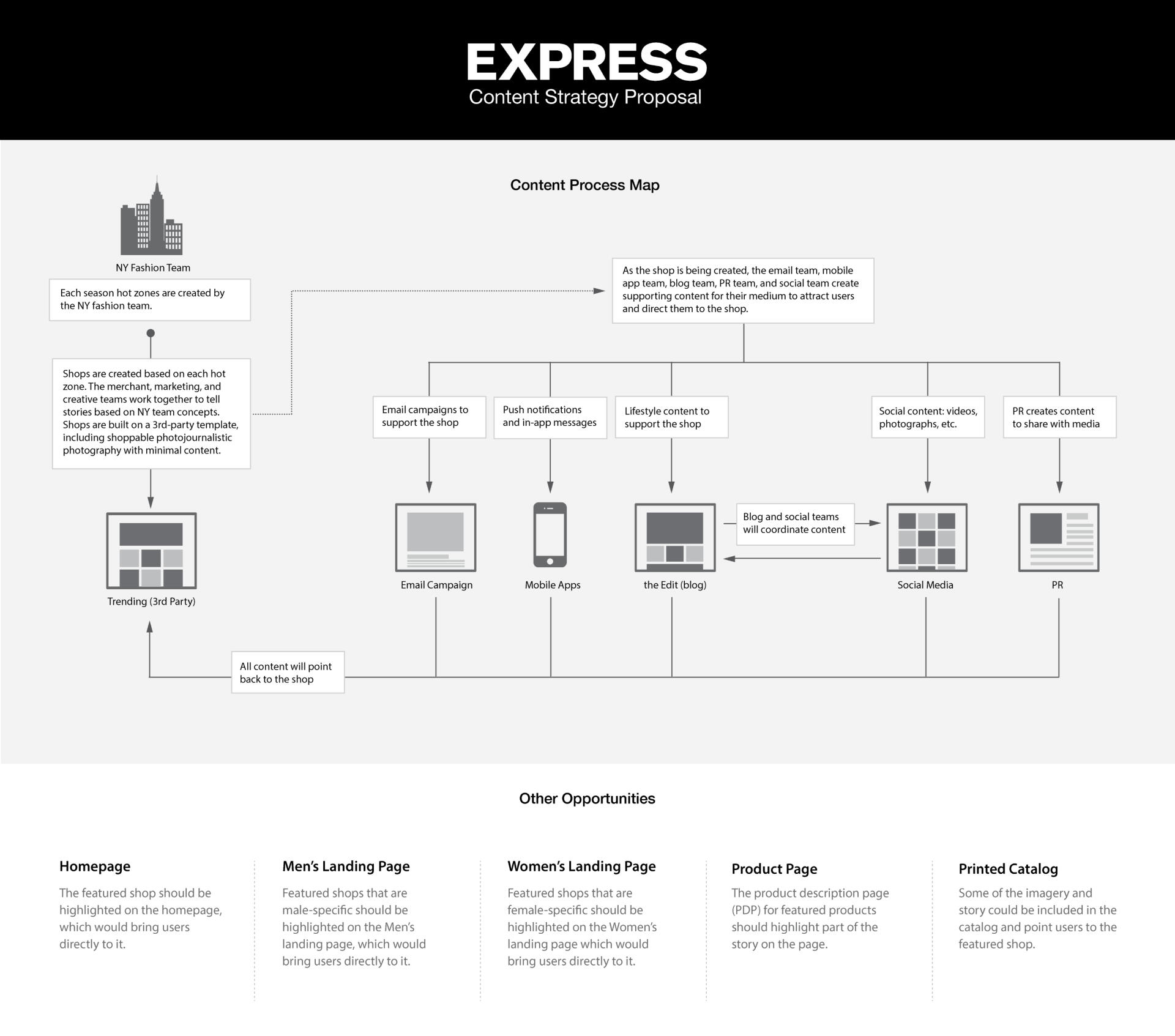 Problem
Newer brands such as Mr. Porter had used content (paid, owned, and earned) to attract, educate, and sell product to customers. Express had the resources to execute this same strategy, but not a clear and coordinated plan.Process
My wife was the UX lead at Express and asked for my content marketing expertise to craft a plan to present the VP of Customer Experience. Using a scorecard I reviewed the team structure across design, product, and marketing to identify gaps. This revealed a way to efficiently generate a high volume of quality content.Solution
I co-created a Content Process Map and presentation deck with recommendations. This described how to blend content with the shopping experience. The first step would be a homepage view in the mobile app allowing users to explore content or shop with a tap.Contribution
Content strategy
---
© Bryan Kelly. All rights reserved.
ASSOCIATION ANALYTICS (A2)
Association Analytics is the leading provider of business intelligence and data analytics for association professionals. After decades as a consulting service, they spent 2 years turning their most popular analytics service into a SaaS platform with hundreds of pre-built integrations.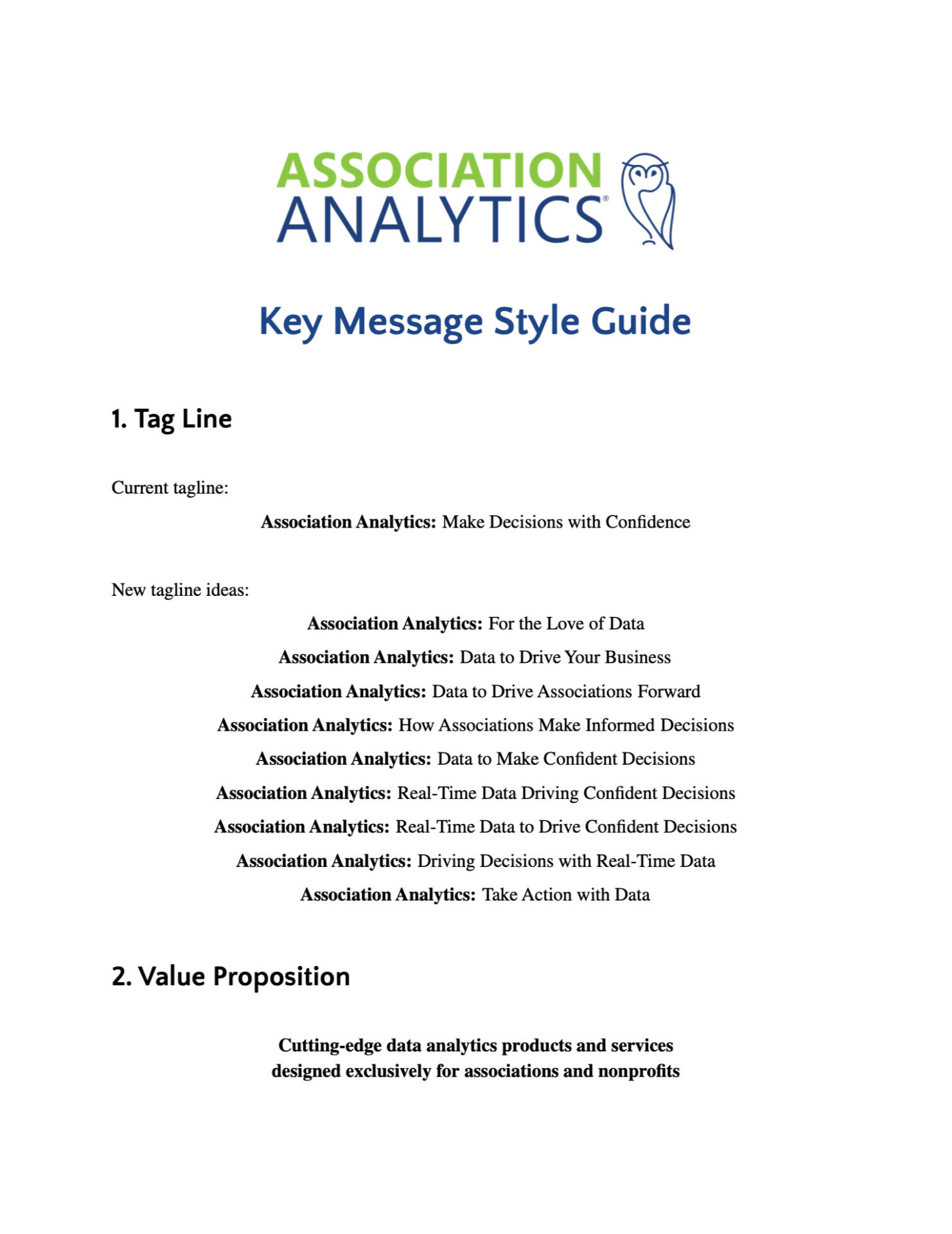 Problem
Before launching their new SaaS platform, Association Analytics needed clear messaging guidelines as part of an effective go-to-market strategy.Process
I worked with the CEO and COO to dig into the brand's core strategy, including its mission and value propositions. I then identified the key benefits of the product and wrote several headlines, bullets, taglines, and more to make those benefits stand out.Solution
The guide included a comprehensive series of messages for the brand. It was the springboard for writing a full lineup of marketing materials for the go-to-market plan. These materials included a new website, emails, landing pages, and sales sheets.Contribution
Style guide
---
© Bryan Kelly. All rights reserved.
FanGuide Tour & Audio Companion
FanGuide was the first iOS architectural tour guide app series launched on Apple's App Store in 2009. This data-heavy guide pulled together vast amounts of tour-related information: points-of-interest, photographs, video recordings, guided audio, GPS coordinates, and more.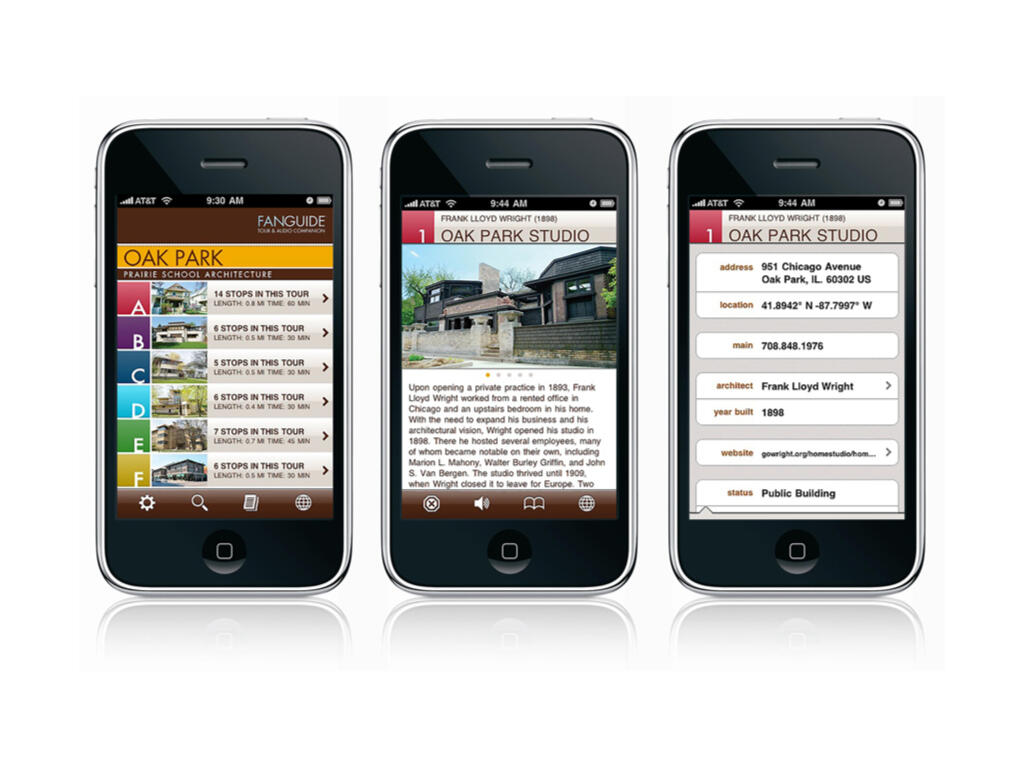 Problem
FanGuide's engineering team needed to import a massive library of content that was written, recorded, and produced for 4 different tour guide apps in the series: Chicago, Oak Park, Los Angeles, and Palm Springs. The challenge was meeting a tight launch deadline with only 9 weeks to package everything for release.Process
After writing the UX and UI copy for hundreds of points-of-interest, I prepared over 150 property lists (aka p-list files) using PlistEdit Pro. These files contained metadata about every single piece of content and where it should appear in each iOS app. This included tour overviews, tour stop descriptions, trivia facts, photographs, audio/video files, GPS coordinates, map details, architect biographies, public building information, and more.Solution
Once uploaded to the appropriate server, each property list was able to seamlessly flow into a database the engineering team setup for this series of iOS apps. There was zero delay in fully compiling the apps for distribution and the launch deadline was met.Contribution
UX/UI copywriting, Data management
This 2 minute video shows the depth of data described above.
---
© Bryan Kelly. All rights reserved.
FanGuide Tour & Audio Companion Video
---
© Bryan Kelly. All rights reserved.